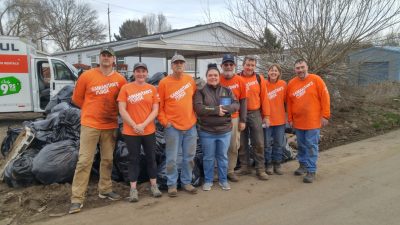 The city of Pendleton is approximately 16000 people and it was impacted by a localized flooding event the weekend prior to Valentine's Day. The Samaritan's Purse Deployment started on the 15th of February and will come to a conclusion on  March 3rd . We had approximately 40 volunteers there with Samaritan's Purse and a team of 6 chaplains with A Chaplain coordinator team of 2. This was a smaller scale event so it is kind of a unique deployment. We were hosted by the 1st Assembly of God church in Pendleton and they were very gracious with their hospitality. We were in very tight quarters with approximately 8″ between each mattress in the Men's Sleeping Areas. There was some snoring going on but it wasn't to an extreme.  It helps to be very tired at night so you can sleep through that.  I could have possibly been one of the snorers…. who knows…. I was asleep!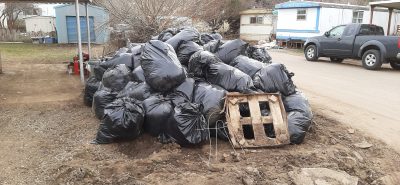 We spent our time primarily removing insulation from underneath manufactured homes. It's a particularly nasty, wet, and dirty job but we praise God for it. We always count it an incredible privilege to be able to serve people and to love them in Jesus' name. I had the privilege of putting on that Tyvek suit and crawl under a Manufactured Home a couple of times and was able to work through it though I might be a little bit claustrophobic. Our team consisted of people from Pennsylvania California Oregon Washington and Nevada. We  really had a great time working together with lots of good humor  mixed in. We worked on one very large site built home from the early 1900s with a very large basement. We were tasked with cleaning out the mud and stripping the walls of any flood contaminated  materials.  I had a the fun time of taking out lath and plaster which is a combination of pounding it with a hammer and then prying it out with a crowbar. We got everything complete on that house in less than 6 hours.  One of our team members had the unconventional idea of trying to use a magnet to pull up all the loose nails from the floor. The problem was that this magnet was borrowed from the homeowner and when that person finished with it because that didn't really work,  they placed it somewhere and we could not find it. Losing anything that belongs to the homeowner is one of the worst problems that team leaders deal with, and is a big "no no". That person that lost a magnet was from Modesto and the 1st initial of their 1st name was M but we won't get specific! So we all began to look for that item, not able to leave until we found it.  I was one of those people and I looked through the same areas probably 4 to 5 times and came out of the house very frustrated. Then one of the other team members, a nice, quiet lady from Washington State asked me if I had prayed I said "No, I'm trying to find this thing!" (with some irritation in my voice) She said "well maybe you should pray". So I went back down in the basement again looking in the same areas again and prayed,  asking God to show me where it was since I knew that He knew where it was. Then I heard his still, small voice  speak quietly to my heart "look down". Sure enough I saw a small little piece of rope sticking out from underneath some other items on this bench that I had looked at several times already. And I remembered that the magnet had a rope attached to it so I grabbed that little small piece of rope and pulled on it gently…. and was surprised to find weight on the other end!  Yes, it was the magnet! So the quiet little lady's advice was good! ( I should have followed it probably 20 minutes earlier). The team was very blessed to find that thing because it had belonged to the grandfather of the homeowner. So, we headed out with our hearts filled with  much joy. As I mentioned, we worked on several homes, and most of them were Believers in Christ. It's always a blessing to run across Christians whose faith has not been shaken by disaster but Strengthened instead!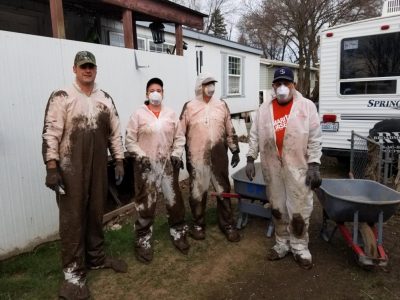 I shall share the story of the last homeowner's house that we worked on that Friday. Her name was Robin and her husband's name was Harley.  This was a very large double wide manufactured home that sat right at the entrance to the park. As a matter of fact it, it held the office for the park, and it turned out that Robyn and Harley managed this park. It was listed as space number 56 so we were a bit puzzled by that but ended up getting to the right place. (thinking that the Mobile at the entrance would be space #1) We tore out all the installation from underneath the unit and removed all the debris from the flood waters and it took us most the day from about 9:30 a.m. till about 3:30 p.m. The Chaplains came to visit Robyn while we were working and in conversation were able to share The Gospel with her as she was receptive. She received Jesus Christ as her Savior, and  that caused us all to rejoice with our new Sister in Christ . I've enclosed a photo of the pile of bags of insulation and a photo of the team with her standing with us. It is such a beautiful thing when someone receives Christ after disaster like this and she wept freely and was overjoyed with receiving her new Billy Graham Training Center Bible. Just an incredible blessing for all of us to experience that on our last work order of the week.  Please pray for her because her husband is not a  Believer in God. She is very concerned about what his reaction might be after she tells him what she just did on Friday. But as we all know God covers all that AMEN?
Some statistics for you concerning this disaster:
Samaritan's Purse opened 78 total work orders for this deployment. They completed 59 of those by Friday, 2/28, with 6 work orders done by other agencies on behalf of the homeowner. There were 13 left to do as of that Friday, but new work orders will be taken on Saturday….for the last time.  Of those 13 work orders left, 9 are Mobile Homes, 4 are site-built homes.  They have had 75 Day Volunteers from the community serve to date, which is an exceptionally high number in relation to the population of the community.  Samaritan's Purse donated 3,752 work hours toward Disaster Response.  These hours are donated to the community, which can, in most cases, receive additional funding from FEMA with those hours noted.  Most importantly, we had 16 people pray to receive Jesus Christ as their Savior during a 13 day period!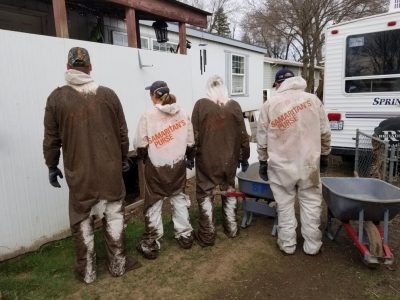 All in all, the community has been impacted greatly with the efforts of Samaritan's Purse and the Billy Graham Chaplains.  The 1st assembly of God church also did a an outreach in the mobile home park that we had been working in on Friday night which I had the privilege of attending. They showed the movie Lion King in the park using the side of a of whitewashed u-haul Van as the screen, which I thought was pretty ingenious. They grilled hot dogs, popped popcorn, served cookies and had face painting. Approximately 15 kids were very blessed as were their parents.
Praise God for His faithfulness ! What an incredible privilege's it was to serve the people of Pendleton Oregon.
God bless you all.
John Kern
I have enclosed the following pictures:
1) Our homeowner Robyn and the team standing in front of her home
2) A photo of the extensive pile of bags of wet insulation we took out
3) 2 photos of what our Tyvek suits look like after working under the Mobile Home
4) A photo of the "deluxe" plane we flew on from Portland to Pendleton